This past month I had the privilege of reading "The Astonishing Adventures of Missionary Max" as part of our pastoral staff's ongoing reading program (read a book each month and write a review).  The following is my review of author/missionary Andrew Comings most recent literary accomplishment.
Several years ago the author of this book, Andrew Comings, and myself used to travel from church to church teaching puppetry skills.  One of the truisms about puppetry that we would mention was that good puppetry, while mostly geared toward younger generations, would capture the attention of adults as well.  In "The Astonishing Adventures of Missionary Max" Andrew has managed to do just that.  The book itself would most likely fall into the pre-teen / teen guy reading category.  However, the action, romance and multi-layered plots will keep just about anyone turning the digital pages.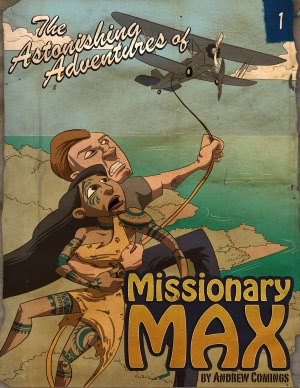 The book, as I just alluded to, has only been published in digital format and is available through Amazon and Nook e-readers.  The story follows Maxwell Sherman, a reluctant missionary with an interesting past, through a series of adventures that begin when he arrives on the small (fictional) island of Cabrito to assist some missionaries in constructing a church building.  But plans go awry from the moment Max steps of the airplane.  Throughout the rest of the book Max embarks on a fantastic, some would say astonishing, journey meeting an eclectic group of characters (from the mysterious Ray and the lovely Ilana to the clutzy Cascavel and ruthless Diego) all the while learning how to trust in God and boldly share the gospel of Jesus Christ.
On a personal note, and since this book review is for a church where the author is known quite well, it didn't take long for me to see the passion that Andrew has for the culture and people of Brazil come out in the pages of this book.  While missionary Max is not autobiographical by any stretch of the imagination and the none of the cast of characters represent a real-life counterpart, for those that know him it's hard not to see the influence of people and events that God has allowed Andrew to experience creep into the description of an event or character in the book.  So, while this book may not be autobiographical, it is the direct result of a passion that God has given Andrew for a country, a culture, a people and ultimately for the glory of God.